Winner of the ARD Music Competition receives special prize from the Salzburg Cultural Association
Lukas Sternath receives the special prize and a concert invitation to Salzburg.
The Austrian Lukas Sternath won the renowned ARD competition at the weekend. The main prize in piano, the audience prize and several special prizes, including that of the Salzburg Cultural Association for an outstanding performance of a romantic work, went to the 21-year-old Viennese.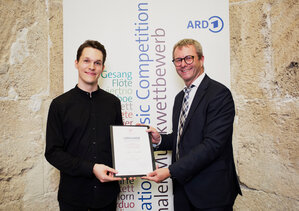 1st photo: Pianist Lukas Sternath at the rehearsal for the final of the ARD Competition 2022 © Daniel Delang
2nd photo: Lukas Sternath © Aaron Bunker
3rd photo: Thomas Heißbauer hands over the prize in Munich © Daniel Delang
Thomas Heißbauer, Artistic Director of the Salzburg Cultural Association, will present the Special Prize of the Salzburg Cultural Association at the prize-winners' concert on 16 September 2022 in the Herkulessaal of the Residenz in Munich. As the winner, Lukas Sternath will be featured in a Salzburg Cultural Association concert at the Großes Festspielhaus in one of the coming seasons.
The student of the world-class German-Russian pianist Igor Levit may join famous colleagues such as Jessye Norman, Thomas Quasthoff, Sol Gabetta and Christoph Eschenbach with this award. In the prizewinner's concert, Lukas Sternath will perform Sergei Rachmaninov's Fourth Piano Concerto with the Bavarian Radio Symphony Orchestra.
"What a blaze of colour and luminosity of tone, what a beautiful opening with the theme of the slow movement!" (Süddeutsche Zeitung)
The prize-winners' concert (16.9., 8 p.m.) can also be viewed in the video livestream: ARD-Musikwettbewerb 2022 als Video: Live dabei sein! | Wettbewerb 2022 | ARD Musikwettbewerb (br.de)